Akila aka "Dude"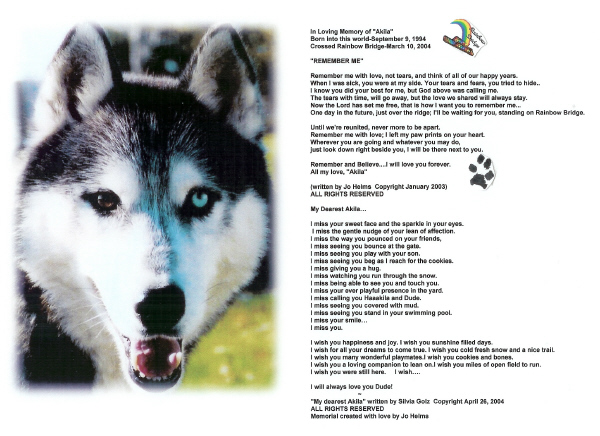 Stay close Akila, Silvia and Kim need you so much. Arrrooooo!!
I told your Auntie Silvia, who loves you so very, very much, that no matter how I tried I could not get the "blue" out of your picture. I tried but after many failed attempts I told her that it simply has to be that you feel the need to "SHINE" and I believe it to be true Akila. So "SHINE BRIGHTLY" you sweet loving soul, shine brightly.. Our love and prayers are with you. Though I did not ever have the pleasure of meeting you personally, I do feel as if I know you. God Bless you Akila. Run now and be free. Take care of Whisper and Otter in the playground of Angels. Please say "hi" to Grizz for me. Jo
Harley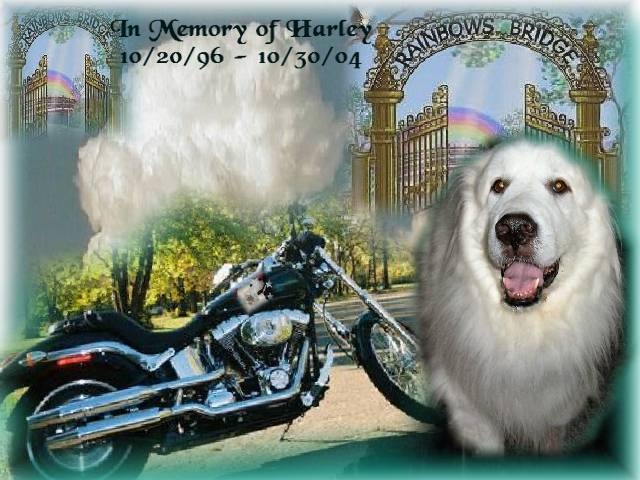 Who would have ever dreamed that lightening would strike this wonderful family twice... Harley is BooBoo's brother who is also on this memorial site and who crossed shortly before our Grizz. Harley developed Osteosarcoma and crossed Rainbow Bridge on October 30, 2004, to join his sister and was also greeted by Grizz and Mozart where they will run free and healthy again, in the playground of Angels... Rhonda and Bob have known some very deep pain by losing two of their beloved furkids in a very short time. Please keep them in your thoughts and prayers.

For all those who have crossed before us, please wait for us and be there to greet us with tails wagging and lots of kisses to make up for time lost. We will never be parted again sweet Furr-Angels. Until that time, we will miss you........ oh how we will miss you. You touched our lives in such a special way and changed our lives forever.....
BooBoo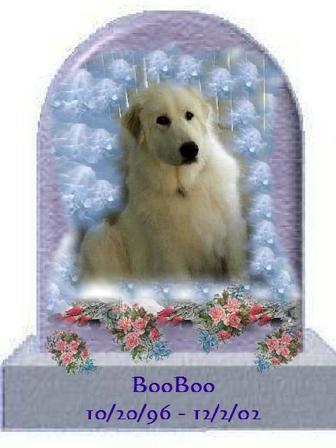 BooBoo was and will always be, a friend of Grizz. She was the first to cross Rainbow Bridge for the cancer trio of BooBoo, Grizz and Mozart. BooBoo will be forever loved by Rhonda and Bob Rycraft as well as ourselves and Sue who is Mozart's Mommy.
"Max" Beloved companion of Jeff & Pat Helms

Mozart ("Motzie")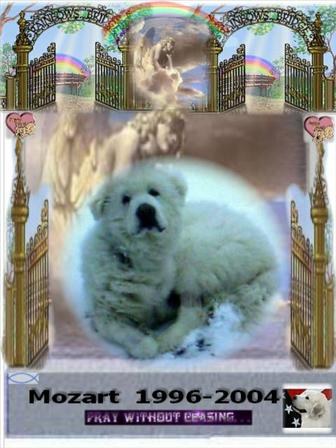 Dear sweet Mozart, the miracle dog. Survivor of cancer. You were the last of the trio to cross. Who could have known that after such a wonderful victory over your cancer that pneumonia would unexpectedly steal you away to Rainbow Bridge. How we all miss you sweetheart but God called you home to join BooBoo and Grizz. We will never forget you Motzie and we will never stop loving you.. Be free you big bundle of lovable fur as you play games with BooBoo and Grizz in the playground of Angels...Wait for your Mommy(Sue), she misses you so.
(Memorials for BooBoo, Mozart and Harley done by Rhonda Rycraft)
Loved and remembered always by Sue Merkler(Mommy) as well as Rhonda, Bob and Jo and Barry...friends forever....